Get ready for an exhilarating Canada Day weekend as Hamilton and Burlington gear up to celebrate in style! This long weekend, these lively communities are bursting with festive spirit, offering an array of events and activities that will make your heart swell with pride for our great nation. From dazzling fireworks and live entertainment to mouthwatering food trucks and captivating cultural showcases, there's so much to enjoy as you explore these areas with friends & family. So, don your red & white attire, light up a sparkler, and let's dive into the exciting events awaiting you this Canada Day long weekend!
Where to Celebrate Canada Day in Hamilton and Burlington
Southbrook's Canada Day Celebration (June 30th): Experience an amazing Canada Day Celebration with Southbrook Golf & Country Club. This event combines delicious food, live music, and family-friendly activities to create a truly memorable experience that everyone will enjoy. Groove to the tunes of Canadian Idol winner Brian Melo, and watch the night sky light up with a dazzling fireworks show. A $5 donation is required.
Canada Day at Bayfront Park (July 1st, 1pm – 11pm at Bayfront Park): The City of Hamilton is throwing their annual Canada Day extravaganza for the whole family at Bayfront Park! Prepare for a full day of fun by the water as you celebrate with the community. The event features a spectacular fireworks display beginning at 10 PM, live music and entertainment, a food truck rally, a sports zone with appearances from Hamilton Tiger-Cats, Hamilton Cardinals, Forge FC, and Toronto Rock, as well as fun activities for the kids like face painting and balloon animals. Bayfront Park will come alive from 1 PM until dark, creating a memorable experience for all. 
Canada Day Eid Festival (July 1st, 12pm – 8pm at the Ancaster Fairgrounds): The festival offers an exciting lineup of festivities, including food trucks serving delicious treats, a wide range of vendors showcasing unique products, and lots of fun to keep the little ones entertained. Immerse yourself in the cultural performances and try some henna. This event promises to be a colourful and joyous celebration of Canada's diversity. 
Canada Day Military Tattoo (July 1st, 1pm – 5pm at Dundurn National Historic Site): Enjoy the enchanting performances by the Regimental Band of the Royal Hamilton Light Infantry, the Argyll & Sutherland Highlanders of Canada Pipes & Drums, and the Argyllshire Dancers. The event showcases the rich military heritage of the region while providing a unique experience for visitors of all ages. 
Canada Day Open House at The Hamilton Aviary (July 1st, 1pm – 4pm): Join this special celebration and immerse yourself in the world of tropical birds at Canada's oldest aviary. The event welcomes visitors of all ages and offers engaging activities such as crafts, a scavenger hunt, and the opportunity to interact with the Aviary's feathered friends. The Hamilton Aviary's commitment to providing sanctuary and advocating for rescued exotic birds makes this event a unique experience that the kids will definitely enjoy as they learn about these fascinating creatures. Donations are welcomed to support their cause.
Canada Day Activities with Burlington Downtown (July 1st): On July 1st, the City of Burlington is celebrating its 150th Anniversary at Spencer Smith Park. If you're ready to get active, start the day with the Yoga in the Park, followed by a 1K or 5K Canada Day run. Throughout the day, enjoy live entertainment, food vendors offering a variety of delicious cuisines, and a spectacular fireworks display at 10 PM at Spencer Smith Park and along Brant Street. This event promises a day full of fun and excitement for all ages, as Burlington commemorates both Canada Day and its own milestone anniversary!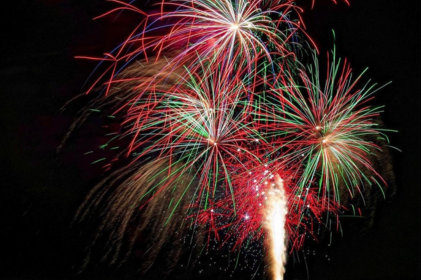 Canada Day Grab-and-Go Activity Kits from the Hamilton Museum of Steam & Technology (July 1st): The Hamilton Museum of Steam & Technology is offering free Canada Day activity kits for families to enjoy at home. Swing by the museum on July 1st between 9:30 AM and 3:30 PM to pick up a kit filled with crafts and experiments that will keep children engaged and entertained. These educational and engaging activities will add a touch of Canada's history and scientific exploration to your long weekend plans!
Canada Day At Freeman Station (July 1st): Explore the rich history of Burlington's Freeman Station, a historic train station that played a vital role in the community's development. On July 1st, the station will be open to the public, providing a glimpse into the past through fascinating exhibits that showcase the evolution of transportation. Immerse yourself in Burlington's heritage and gain a deeper appreciation for the area's historical significance… And learn something new along the way!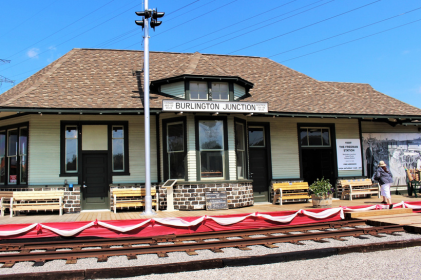 Fireworks from the Rooftop (July 1st at Joseph Brant Museum): Spend an evening on the Rooftop Terrace of Joseph Brant Museum on July 1st, indulging in food, drinks, and live music, while enjoying a premier view of Burlington's Canada Day Fireworks. It's the perfect way to celebrate Canada's birthday in style. Tickets are required.
It's Your Festival (July 1st – 3rd at Gage Park): It's Your Festival is a free event that brings together people from all walks of life to commemorate Canada's birthday. Prepare to be entertained by a wide range of live performances, including multicultural music & dance, with headlining performances from Chilliwack, Jully Black, and The Box. Stop by on Saturday morning for an official Canadian Citizenship ceremony and make this Canada Day one to remember as you welcome some of our newest citizens. And of course, don't forget to indulge in a slice of Canada's Biggest Birthday Cake!
Waterdown Oh Canada Ribfest (July 1st – 3rd): From July 1st to 3rd, head over to Waterdown Memorial Park and treat your taste buds to the mouthwatering flavours of award-winning ribs. Waterdown Oh Canada Ribfest brings together top rib teams from across North America, along with live music performances, vendors, and family activities. The hardest decision you should have to make this long weekend is which ribs you are going to try first, no?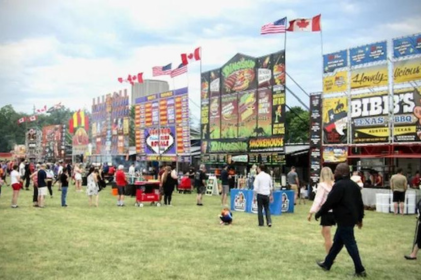 As you immerse yourself in the festivities this weekend, take a moment to envision the possibility of making this vibrant area your new home. At Coldwell Banker Community Professionals, we're here to help you find your dream home and become a part of these incredible communities. We hope that you enjoy your long weekend and all of the excitement that Hamilton & Burlington have to offer this Canada Day!